"Two households, both alike in dignity":
Shalimar, Guerlain 1921 versus Opium, Yves St Laurent 1977.
I thought it would be fun to play off pairs of iconic fragrances and see what I make of them. These are two big hitter, famous oriental* fragrances from two of the huge French houses, created 56 years apart. (*The term oriental seems outdated in 2020, but is still used. I have a post brewing about perfume advertising, colonialism, white slavery narratives and Edward Said but that is for another day.) These are also apt scents for December. Christmastime calls for warm spices and snuggly ambrous vanillas. Yum, and indeed yum.
Origin stories
In both cases a French perfumer takes inspiration from a romanticised orientalist idea of the 'East'. Jacques Guerlain was inspired by the seventeeth century love story of Mughal emperor Shah Jahan and his wife Mumtaz Mahal. Shah Jahan built both the Taj Mahal, and the Shalamar Gardens in Lahore, a Persian paradise garden representing humanity in harmony with nature, as love tokens for her. (I got a spice rack put up for my birthday a few years ago though).
Opium was launched to accompany Yves St Laurent's winter 1977 collection, Les chinoises. The inspiration seemed to be simply "I like China" or, my imagined idea of China. A quote from Yves: "Beijing, however, remains a dazzling memory. The China that I had so often interpreted in my designs was exactly as I had imagined it. All I need for my imagine to blend into a place or a landscape is a picture book. … I don't feel any need to go there. I have already dreamt about it so much."
And also: "I wanted a lush, heavy, and languid perfume. I wanted Opium to be captivating, and I wanted its scent to evoke everything I like: the sophisticated Orient, imperial China, and exoticism."
The Committee for Equal Opportunity of the Organization of Chinese‐Americans campaigned against the 'psychological pollution' of the name Opium being paired with orientalist opulent ad campaign of a spaced out Jerry Hall sprawling in silk kimonos. Quote in the New York Times 1979: "The use of negative Chinese images to market Opium is not at all unlike the use of negative black images to market a product named Heroin; or similarly, negative white images to market Valium."
Shalimar 1 – at least it is quite a romantic story; Opium 0 – cultural insensitivity to the max.
The notes according to BaseNotes
Shalimar
Top Notes: Bergamot, Lemon, Mandarin, Rosemary
Heart Notes Iris, Jasmine, Rose, Patchouli, Vetiver
Base notes: Vanilla, Opoponax, Tonka bean, Frankincense, Sandalwood, Musk, Civet, Ambergris, Leather, Coumarin, Peru balsam.
Opium
Top Notes: Mandarin, Bergamot, Plum, Hesperides, Clove, Coriander, Pepper, Bay, Pimento
Heart Notes: Jasmine, Rose, Carnation, Lily of the valley, Ylang ylang, Peach, Orris, Cinnamon, Myrrh.
Base notes: Vanilla, Patchouli, Sandalwood, Vetiver, Myrrh, Opopanax, Labdanum, Benzoin, Castoreum, Amber, Frankincense, Musk, Tolu, Cedar, Vanilla, Olibanum, Cistus.
Not much point to scoring this but wah, the Opium one is like the recipe for the best gingerbread ever.
The fans
Shalimar had a bad girl rep in the 1920s as it was worn by flappers. It was Frida Kahlo's favourite. I was lucky to visit the wonderful Making Herself Up exhibition at the Victoria and Albert a couple of years ago which focused on Frida's style and make up. The importance of personal style to pride and sense of self, especially when that self is vulnerable, came through loud and strong. Frida would be in intense pain from her spinal injury and frequent operations but her lipstick, hair styling and huge necklaces were a mask of strength for facing the world. The show included her empty perfume bottles, makeup containers and nail varnish bottles from a bathroom cabinet in La Casa Azul that had been sealed for decades.
An interesting blog post here about why Peggy Olsen wore Shalimar in Mad Men.
Given the backstory, I am sure Raymond Chandler was referencing Shalimar in this femme fatale's entrance in The Little Sister, 1949:
"She stood away from the door and waved me in. "We will have a drink," she said. "The God-damnest drink we will have. I adore flattery, however dishonest."
I went in. A gun in the kidney wouldn't have surprised me a bit. She stood so that I had to practically push her mammaries out of the way to get through the door. She smelled the way the Taj Mahal looks by moonlight. She closed the door and danced over to a small portable bar.
"Scotch? Or would you prefer a mixed drink? I mix a perfectly loathsome Martini," she said.
"Scotch is fine, thanks.""
I can't find much about who wears Opium, it seems like Jerry Hall and Emily Blunt wear it but they sort of have to because of the ad campaigns. Also Salma Hayek. Jerry Hall: just think, in the 1970s she was with Bryan Ferry and Mick Jagger, and now she's married to Rupert Murdoch.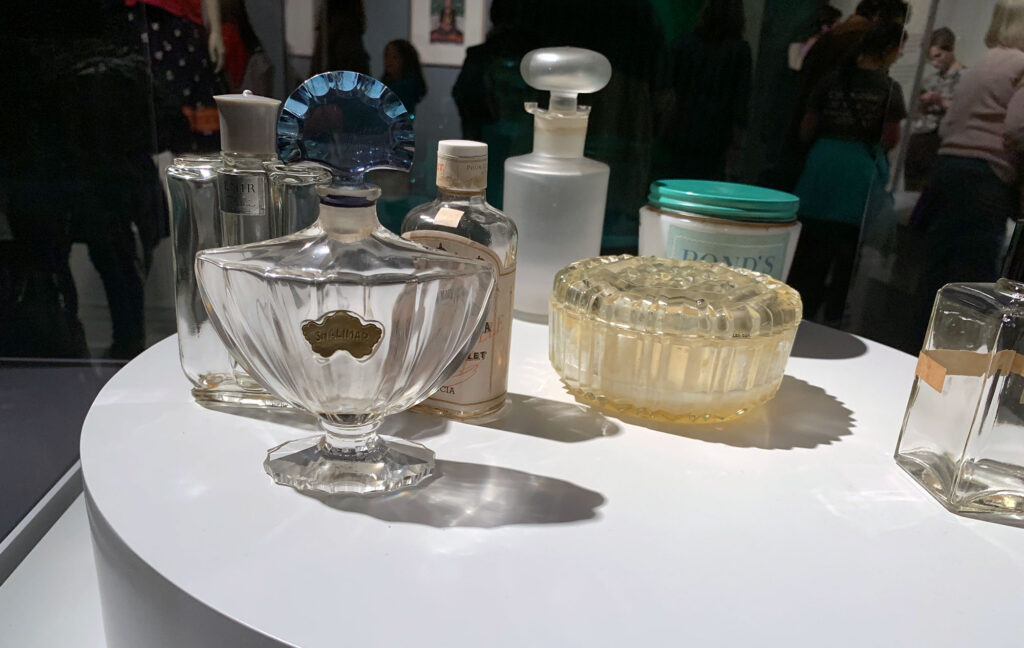 Shalimar 1, Opium 0.
The ad campaigns
I love writing about advertising, there is loads of great old imagery for both perfumes but I will save it for longer discussion in another post. Here I just pick up on some of the filmed adverts.
Here's a 6 minute epic The Legend of Shalimar starring Russian model Natalia Vodionova from 2013. It looks like it cost more than a minor Hollywood movie. Lots of oriental perfume advertising tropes here, pale white woman in mild sexual peril lolling in a steam room with rose petals and blingy jewellery, waiting for a brooding Shah galloping on his horse. I don't like it.
I prefer Opium's efforts although they are just as silly. Right, Emily Blunt prowls 5* hotel in search of drugs (2016). All tropes present: pouting, black gold and red colour scheme, and a big cat.
I've also found this weird mid-eighties two parter on YouTube, some kind of Wall Street meets The Deer Hunter mashup. Business woman Linda Evangelista in a white power suit and massive earrings, realises she's run out of Opium, stalks the streets of an unspecified Asian city, goes to a drug den to buy more. Then gets her wrist licked by a Bryan Ferry look-a-like – dressed as a roman centurion?
Shalimar 0, Opium 1.
The bottles
Beautiful fluted curved glass fan / urn vibes from Shalimar; it is the logo for this blog. An immediately recognisable and evocative bit of product design. The Opium bottle has a black tassel and a hole in it, and was referencing Japanese inro, small lacquered cases for carrying personal items, tied around the waist when wearing a kimono. It just doesn't work for me as much.
Shalimar 1 Opium 0
The scents themselves
I got vintage bottles off eBay, apparently from the 1980s so pre-reformulations.
I tried so hard to like Shalimar. I'd read many elegies to its sensual grown-upness, and I thought I'd love it. But it was like reading a book or seeing a film everyone raved about and just going "Meh." I got dry leaves, papery, old books, and an ashy sense from it, with a bit of warmth underneath but somehow not enough. I think of some slightly stale bedding and old jars of Barts spices, so far past their expiry dates that all the aroma has dried out. I would say it is intriguing when I smell it repeatedly over time but it just isn't something I want about my person. At the end of the day searching for beauty in something you don't really like is quite perverse, so I have to fold. Sorry folks.
I have also tried Musc Ravageur by Frederic Malle. As soon as I smelled it, it reminded me of Shalimar, but just better. It was exactly what I had wanted Shalimar to be: rich, warm, boozy, burnt, enveloping and powerful, but brighter and beautiful. This is what I'll be buying for my birthday instead. (Translates as "Devastating Musk", indeed. One James Mason or Lord Flashheart could pull off at their most lady-killing.)
Opium on the other hand…. ahhhhhhh. I just loved this the second I tried it. Easy to love. One of the best fragrances I have tried so far. It starts with a flash of bright sticky dark mandarin orange and a bit of fizziness. It is at its best about 30 minutes in when it has settled to a beautiful close warm nuzzly spiced honey on my wrist. Opium has a huge reputation as a rampantly sexy, shoulder padded eighties 'room-clearer', but I just don't get that, to me it is comforting and cuddly. A warm golden velvety blanket.
Shalimar 0 Opium 1
Verdict: Shalimar 3 Opium 2 but Opium wins.
At the end of the day it is the scent not myths and packaging that count. So Opium wins. I will be dowse myself in it on Christmas day, plus muchisimo red lipstick. 2020 has been 2020, so I will put my best face forward, raise a glass to the good in humanity and be grateful I have my health, a home and a job.